Advantage of Pillow Plate Heat Exchanger SYNOTHERM® over other heat exchanger
In the engineering of tanks and GMF-plants, the space requirement of the components plays an important role. The main advantage of the Pillow Plate heat exchangers compared to conventional coil heat exchangers is that there can be a space saving of up to one third. This reduces the sizes and costs of your tanks and provides more space for the working process.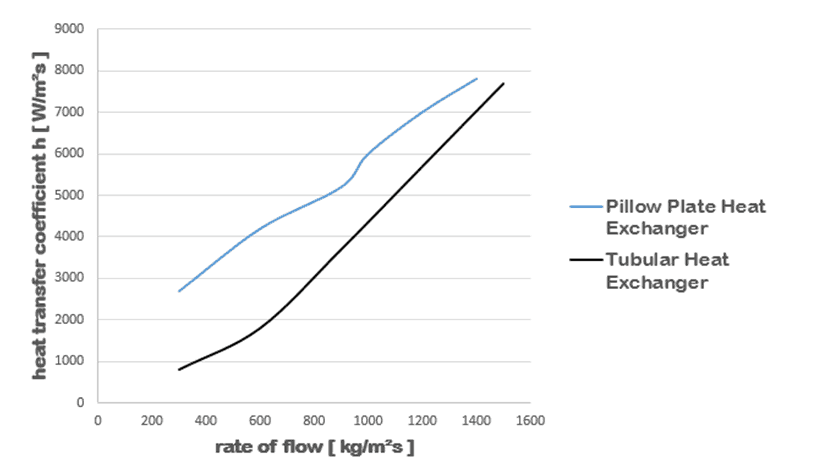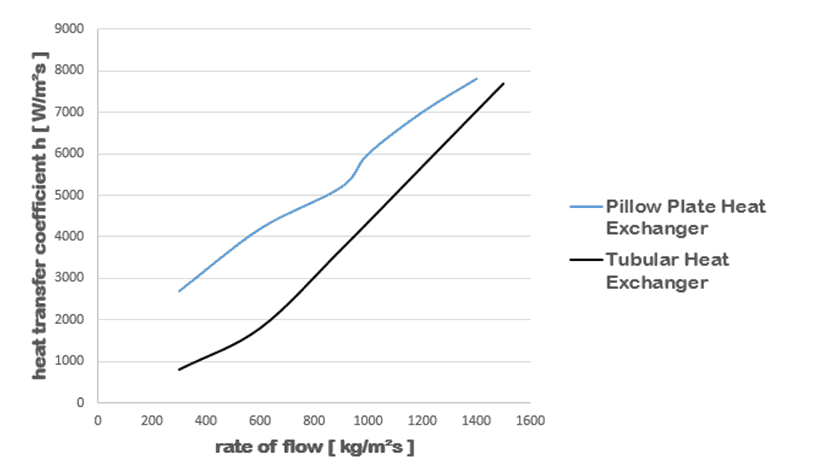 Figure 1: According to J. M. Tran, M. Piper und E. Y. Kenig (2014), Experimental Investigation of Convective Heat Transfer and Pressure Drop in Pillow Plates under Single-Phase Through-Flow Conditions, Chem. Ing. Tech. 2015, 87, No. 3, 226–234;
http://dx.doi.org/10.1016/j.cherd.2015.03.031
The characteristic pillow structure of the SYNOTHERM® plate heat exchanger allows for a strong flow of the medium through the exchanger and leads to a high heat transfer coefficient. As Figure 1 shows, Pillow Plate heat exchangers have a higher heat transfer coefficient  (in W/m²K) depending on the flow rate (in kg/m²s) than tube coil heat exchangers. This causes a higher overall heat transfer coefficient.
The VDI heat atlas [2] indicates an overall heat transfer coefficient  of 150 – 1200W/m²K for tube bundle heat exchangers. For double-tube heat exchangers, this coefficient is only between 300 – 1400W/m²K, whereas plate heat exchangers have an overall heat transfer coefficient of 1000 – 4000 W/m²K! As the following basic formula [3] shows, less heat transfer area  is required to transfer the same power . Consequently, the SYNOTHERM® plate heat exchangers save space, weight, material and costs.

The compact, lightweight and pressuretight design ensures a long and safe working life of your line. The strength of SYNOTHERM® plate heat exchangers significantly reduces the risk of mechanical damage or misshaping compared to coil heat exchangers. This reduces the risk of a line breakdown with the associated costs. The plate heat exchangers are fixed to the tanks by the fixing strips.
The maintenance costs for SYNOTHERM® plate heat exchangers are significantly lower compared to tube heat exchangers. The flat and smooth surface can be cleaned easily and quickly with a steam jet or highpressure cleaners, resulting in your process being back in operation quickly.
Literature
[1] J. M. Tran, M. Piper und E. Y. Kenig (2014), Experimental Investigation of Convective Heat Transfer and Pressure Drop in Pillow Plates under Single-Phase Through-Flow Conditions, Chem. Ing. Tech. 2015, 87, No. 3, 226–234;http://dx.doi.org/10.1016/j.cherd.2015.03.031
[2] Gesellschaft, VDI (2013), VDI-Wärmeatlas. 11. Aufl.. Wiesbaden: Springer Berlin Heidelberg, S. 85-87
[3]von Böckh, P./Wetzel T. (Hrsg.) (2015): Wärmeübertragung, Grundlagen und Praxis, 6.Auflage, Karlsruhe, S.9