Our SYNOTHERM® plate heat exchangers are now also certified according to the latest criteria of the Pressure Equipment Directive 2014/EU/68: TÜV SÜD Industrie Service GmbH has tested our plate heat exchangers in accordance with Directive 2014/68/EU. All processes – from design and configuration through production to final pressure test and final inspection – were audited in accordance with the requirements of Directive 2014/EU/68 in conjunction with AD-2000.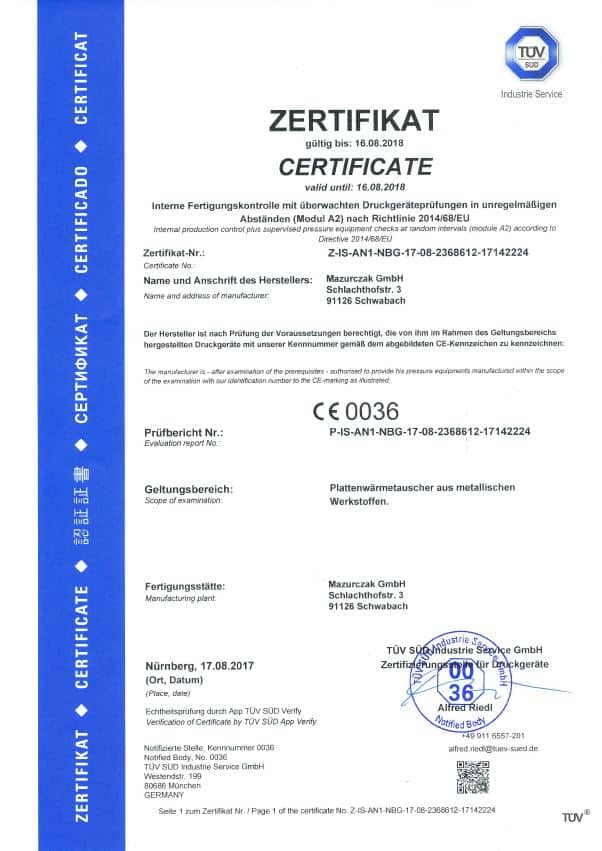 The Pressure Equipment Directive 2014/68/EU requires the conduct of a risk analysis. In addition, measures have been defined to eliminate or reduce the risks and safeguards against non-remediable hazards.
In conjunction with the risk analysis, the installation and operating instructions have been revised and adapted to Directive 2014/68/EU and AD 2000. Each product is delivered with a manual.
Before delivery, each product is subjected to a pressure and leak test. A pressure test protocol is attached to each plate heat exchanger as a service. For pressure equipment category 1 and 2, a declaration of conformity may be included.
For traceability, labeling and batch production, a suitable process has been implemented. It also ensures that the material used meets the specified requirements.